Research and Workshop in Seoul
Date: May 25 to 27, 2016
Venue: Seonyudo Park, Culture Station Seoul 284
In May 2016, research and workshop sessions were held in Seoul as part of the Promise Park project. Experts from diverse fields, including a researcher from YCAM Bio Research, an engineer, an architect and a musician, came together to explore the possibilities of a future park as a new public place through discussions and scientific experiments under the concept of "scent," as suggested by MOON Kyungwon.
Day 1
The workshop on Day 1 was held at Seonyudo Park, with 25 participants from various fields such as landscaping, architecture, art, and environmental design taking part in the event. Led by YCAM Bio Research's Kazutoshi Tsuda, participants were divided into three groups to gather specimens of plants or other organic objects in the park that may have yeasts in them. Kazutoshi told those gathered how yeasts, mostly carried by insects, tend to be attracted to flowers or fruits. Based on this information, those present were then able to discover a number of different yeasts growing in Seonyudo Park.
After bringing the samples to Culture Station Seoul 284, we conducted a biological experiment so that we could directly culture yeasts. The experiment started by creating a separate environment through a DIY clean box in which other microbes in the air were sealed out. All the tools we had used to gather and carry out our experiments had to be thoroughly sterilized. Later, we took living sample from Seonyudo Park (using sealed test tubes) and carefully transferred the samples to other test tubes containing purified water. At that time, we had to be careful not to let the lids of the two test tubes touch the floor and not to expose the samples to the air outside. Following that, we shook the test tubes over and over so that the yeasts attached themselves to the surface of the test tubes and could then spread throughout the water. Next, we released several drops of the yeast water onto a purified petri dish using a medicine dropper. Lastly, we marked the name of the sample in the petri dish and placed it in a DIY incubator, with the temperature being maintained at 30 degrees centigrade. By culturing these yeasts in petri dishes for one to two days, the yeast colonies grew large enough that they could be seen with the naked eye.
Day 2
The following day, participants gathered once again to observe the yeasts which had been cultured the previous day and talked about the locations we had each discovered these samples, as well as the meaning of the samples and the unique geological traits of Seonyudo Island. In addition, we shared our opinions about the reasons we had selected Cheonggyecheon and Seonyudo Park for our field trips, while at the same time looking into the yeast samples from Cheonggyecheon using a smartphone microscope. The sample had been previously cultured so we were better able to observe the cultured yeasts. While Seonyudo Island used to be an island surrounded by river water, Cheonggyecheon is a park established along a cemented-over stream that was later redeveloped after years of being buried as part of an urban development project. Kazutoshi Tsuda said that a number of fruit flies can still be found around Cheonggyecheon even though they usually inhabit "lidded" topography. He added a variety of ecological elements are connected with people around here. On top of the field trips, Kumiko Idaka (curator at YCAM), Kazutoshi Tsuda (researcher at YCAM), Kazunao Abe (artistic director at YCAM), Yasuaki Kakehi (media artist and associate professor at Keio University SFC), composer DALPALAN a.k.a KANG Kiyoung, Park Hwalsung (editor-in-chief at Workroom Press) and Hyunjoon Yoo (an architect and professor at Hongik University) discussed the meaning of future parks, biotechnology, and public solidarity. This served as an invaluable opportunity to explore a number of symbolic concepts drawn from the concept of "scent," a sensory medium, and one not limited to a specific place or physical environment.
Day 3
On the final day, a workshop open to the public was held to view the results from the previous workshop and all related data. A discussion was then held to go over all of this information. Scents are rarely substantial, almost always temporary, and hard to record in any tangible way. As a result, the concept of scent in this case was handled as a medium of art in which participants contemplated various historical meanings and senses they could share anew. Furthermore, this served as an opportunity to suggest new possibilities of scent as a means to evoke a "public memory," while also having scent act as a new form of solidarity.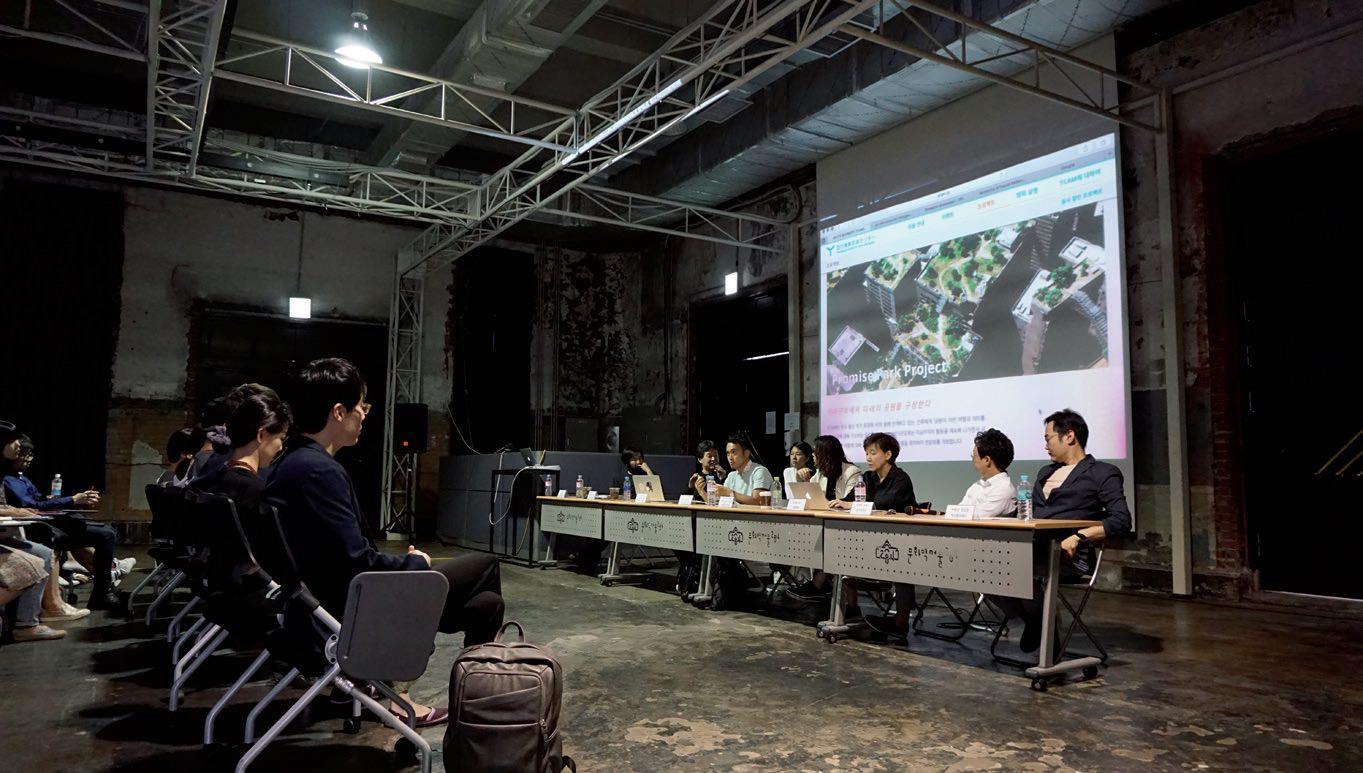 Research and Fieldwork in Tokyo
Date: Nov. 17 to 18, 2016
Venue: Meiji Jingu, Shinjuku Goen, Hibiya Park
In November 2016, research was carried out at Tokyo's Shinjuku Gyoen National Garden, Hibiya Park and Meiji Jingu (Meiji Shrine), where an Olympic Stadium was being constructed at the time for the upcoming 2020 Summer Olympics. As we examined the geopolitical characteristics, history, and elements of each park, we also reviewed the meaning surrounding the historical context of these same parks. The Meiji Jingu Gaien area, located near Meiji Jingu, is a lush green oasis in the heart of Japan's capital city and home to many different sports facilities, including Tokyo's National Stadium, which is currently under construction. Not far away is Gingko Avenue and the Seitoku Memorial Museum, which sheds a great deal of light on Japan's modern history. Meiji Jingu Gyoen (Meiji Jingu Gardens) is also located nearby, with the area around Meiji Jingu consisting of two totally different parks that are home to 120,000 trees. Shinjuku Gyoen used to be owned by the Naito family during the Edo period (1603-1868) and was called Naito-Shinjuku at the time. The Naito family's mansion and a royal garden built during the Meiji period (1868- 1912) were both opened in 1949 as a public park called Shinjuku Gyoen. The park includes a beautiful Frenchstyle garden that was symmetrically arranged, an English-style landscape garden featuring wide lawns, and a Japanese-style landscape garden featuring large ponds. During the shogunate, Hibiya Park was the palace area for feudal lords, including Matsudaira Bizennokami, and became a military training ground during the Meiji period. Later, it was redesigned as an "urban park" so that when it opened in 1903 it became Japan's first modern park designed in a Western style. Located close to Kokyo Gaien (Imperial Palace Park), Hibiya Park has a large fountain that was constructed in 1961 for the purpose of symbolizing post-World War II restoration. The park also features Crane Fountain, which was built in 1905, and was designed by Shinobu Tsuda and Sessei Okazaki of the Tokyo Fine Arts School (now the Tokyo University of the Arts).